Longo Mai translates to "Long Life" from the Provençal language. The Longo Mai movement was founded in Switzerland in 1973 by people of "Generation 68", the 1968 student movement made up of youth from Austria, Switzerland, Germany, and France who were looking for a better future than what postwar society offered. 
Today, there are ten intentional communities of Longo Mai in Europe and one for refugees in Costa Rica. 
Longo Mai communities promote living together with agricultural self-sufficiency and self-administration.
As a part of a graduate course: Interactive Project for Public Good - I traveled to Longo Mai, Costa Rica with a group of colleagues to learn about their community and develop a website that would not only attract tourists but identify Longo Mai as a prominent family.
As the UX/UI Lead, here is my journey:
This website was awarded 1st place in the AEJMC's Best of Web/Design Competition 2020.
​​​​​​​
Longo Mai's

previous website

was created in 2004 by a volunteer. While it outlined all major aspects of their community, it was very content-heavy with an overwhelming appearance. 
Their vision is rich. They have a passion to share their stories with others and have dedicated their lives to building up and protecting their area.
Our goal was to create them a website that exemplified modern design, immersivity, and organization to allow for the total engagement of tourists of any kind.
​​​​​​​​​​​​​​
• Promote tourism by providing awareness of Longo Mai's history. Early exposure included being an opportunity for Nicaraguan and El Salvadorian refugees, farmers, tourists, and others.
Now, this has broadened to North Americans, tourists of academic backgrounds, wildlife experts, and more.
• Establish a greater identity for Longo Mai by showcasing fine photography, videography, committee meetings & highlights, unique experiences, events, and organization.
• Provide a wholesome experience to those visiting. This includes collaborative workshops, tour of the farms, conservational forest & wildlife, living with a host family, learning Spanish, hearing stories from the locals about the history, and eating fresh food. (We did all of these while here!)
To identify who the main audiences were, I created personas to reveal three different types of tourists:
The primary navigation of the website was crafted using our research done at Longo Mai. The categorization was decided in a way that appealed to all three tourist types. Design methods included using card-sorting and affinity diagrams.
Sketching out structures of the pages was imperative to identifying the layout of information. Remember, the challenge was to encapsulate everything about Longo Mai, just like their previous website - but in bite sized pieces.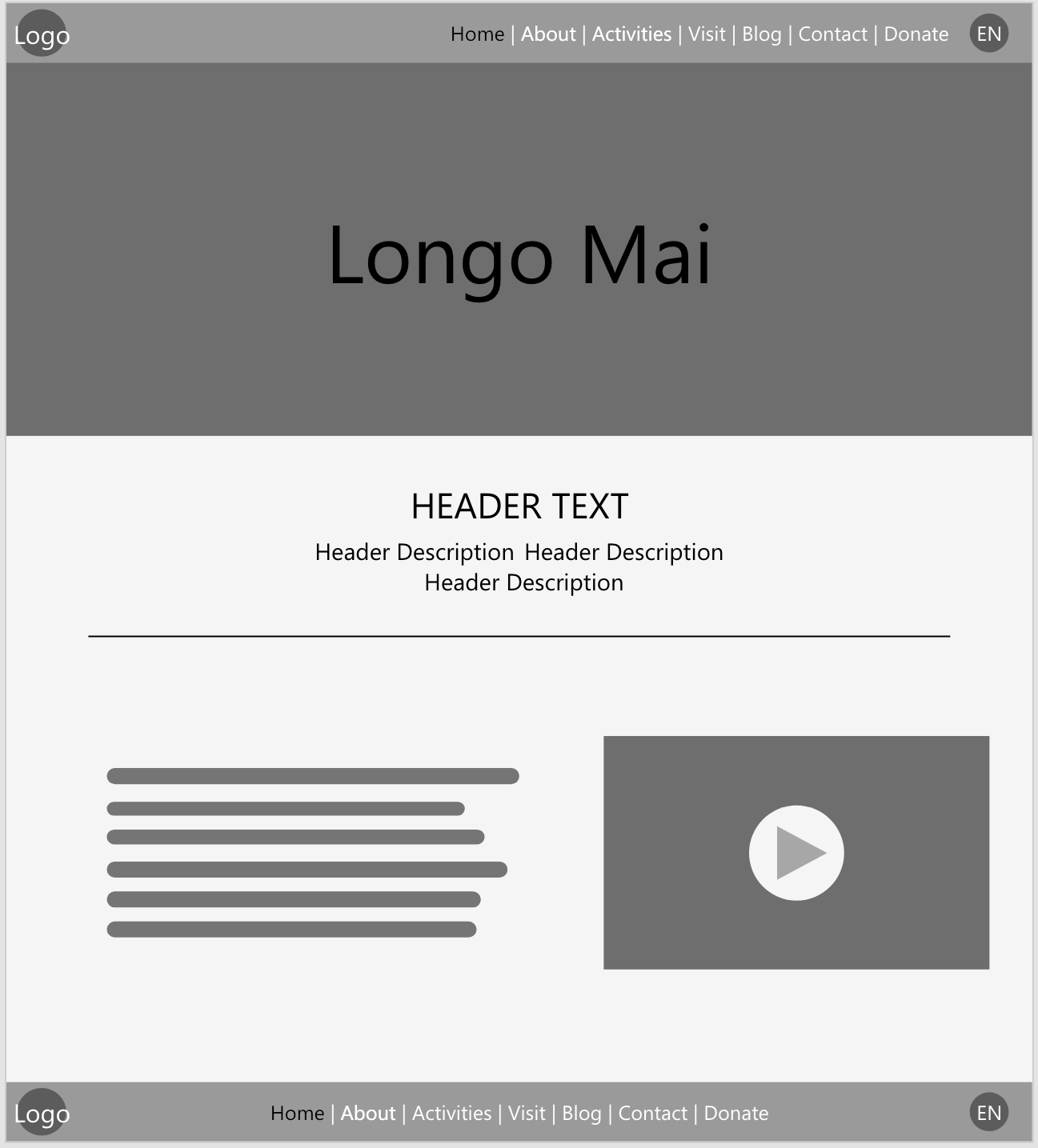 The simple site structure was then evolved in the following process:
Wireframe -> High-Fidelity Mockup -> Prototype -> Usability Test
The complete website that symbolizes Longo Mai, Costa Rica can be found at: